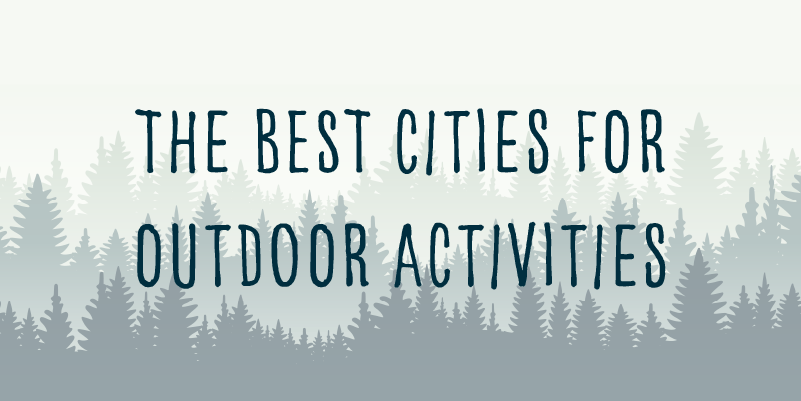 Spending time outdoors is a fantastic thing to do for your health and happiness, according to Time and many other experts. In fact, as discussed in the above link, spending even 20 minutes in a park can significantly improve your overall well-being. Even in uncertain times, such as the current COVID-19 pandemic, officials such as New York Governor Andrew Cuomo have green-lighted "solitary" outdoor exercise. As far as current recommendations go, as long as you are avoiding groups of more than 10 people, wearing a cloth face mask, and remain 6 feet away from people who are not members of your household, getting outdoors is perhaps one of the best things you can do for your health right now.
However, for the millions of Americans who live in major cities, access to green space can be an issue. We realize that many factors play into this pursuing a healthy lifestyle –for example, location can play a big role in getting yourself outside.
Therefore, we got curious about what large U.S. cities have the least barriers to entry to outdoor activity. What major metropolitan areas offer great access to green space and tons of options for having fun outdoors? To find out, we decided to dig into some local offerings in order to determine the U.S. best cities for outdoor activities. Read on to discover what we found.
Methodology
We wanted to determine which of the largest 50 U.S. metropolitan statistical areas are best for outdoor activities such as hiking, mountain biking, or spending time in local parks. To do so, we compiled local data on 7 factors and ranked the cities accordingly.
Factors:
Outdoor Activities per 100k People (Hiking, Mountain Biking, Rock Climbing) — 

Source: Yelp 
Weight: 2.00

Water Activities per 100k People (Surfing, Rafting/Kayaking) 

Source: Yelp 
Weight: 1.50

Campgrounds per 100k People

Source: Yelp
Weight: 2.00

Ski Resorts per 100k People 

Source: Yelp
Weight: 1.50

Average Temp. Mediation from Ideal Outdoor Temp. (70 degrees) 

Source: City-Data
Weight: 2.00

% of Residents Living Within a 10 min Walk to a Park

Source: The Trust for Public Land
Weight: 2.25

% of City Land Area used for Parks and Recreation 

Source: The Trust for Public Land 
Weight: 2.25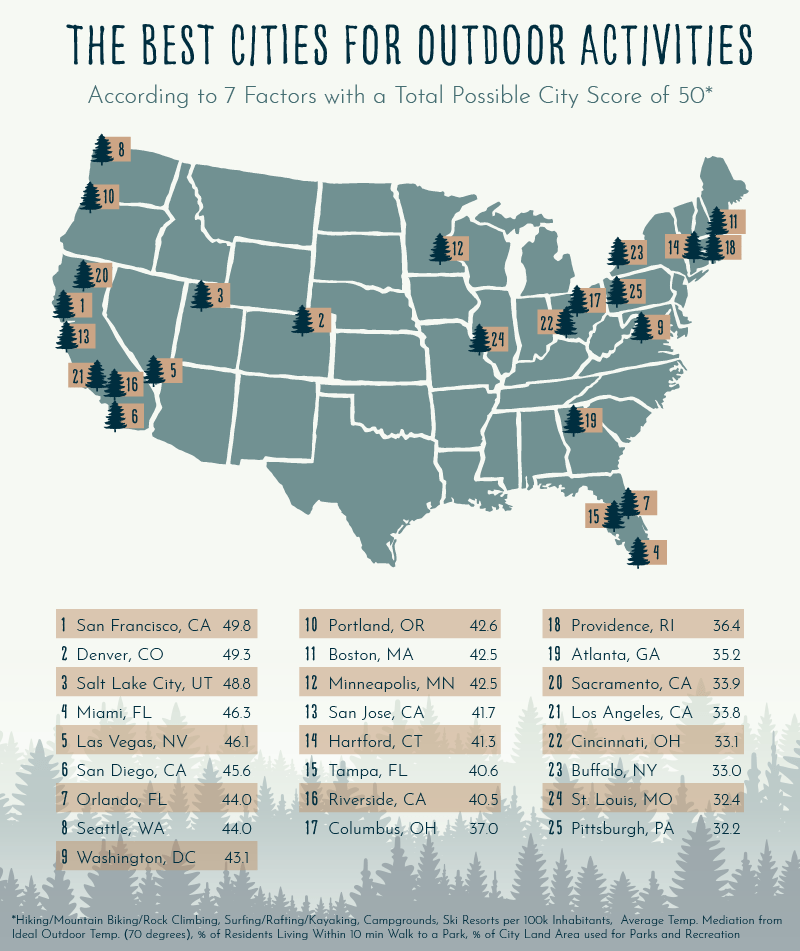 Our ranking system determines that the top 5 cities for outdoorsy activities in the U.S. include San Francisco, Denver, Salt Lake City, Miami, and Las Vegas. These cities have a lovely combination of ample outdoor activities as well as generally temperate weather that encourages getting outdoors for multiple months throughout the year. 
San Francisco, for example, received a ranking of 49.8 out of 50 –a near-perfect score! This is mostly due to its high amount of outdoor activities, its proximity to both camping grounds and skiing resorts, and its impressive use of 20% of land area for parks and recreation, which leaves 100% of San Francisco citizens living within a 10-minute walk to a park!  
Now that we've entered the summer season, there are even more opportunities to get outdoors –namely, camping and spending time on the water. We decided to break down some of our data to reflect the largest cities that are close to the most camping sites and access to water sports such as kayaking, surfing. and rafting. Check out those maps below!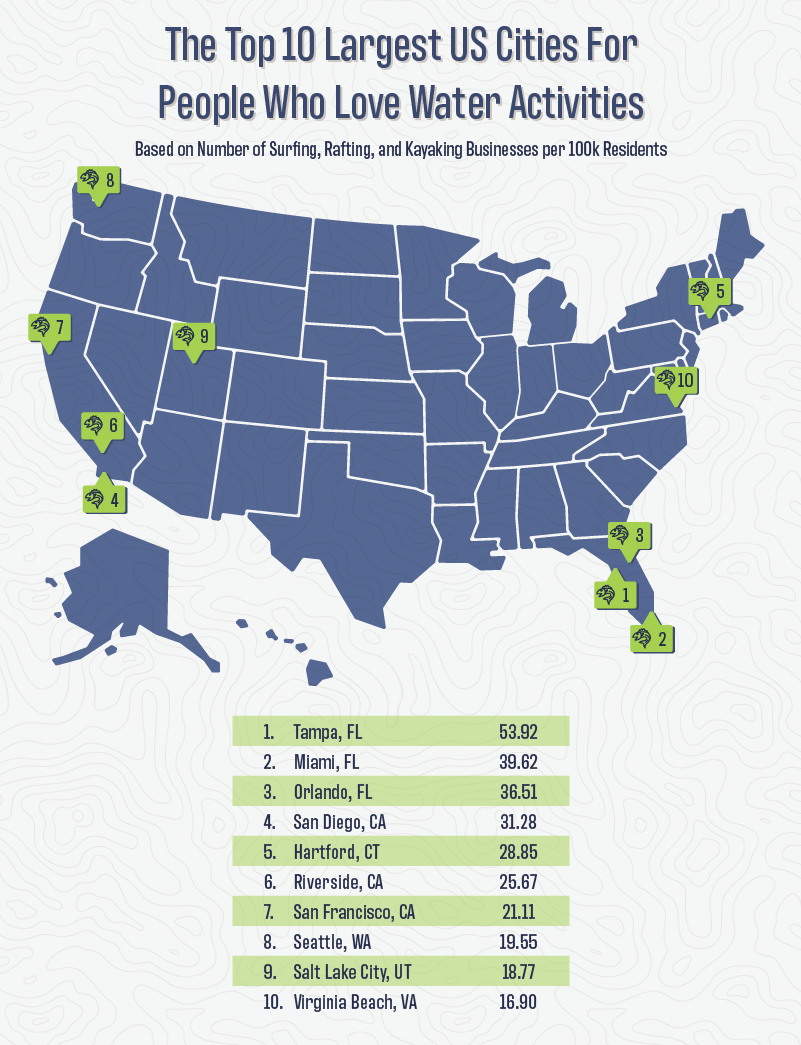 If you're looking to live in one of America's largest cities and still spend some time on the water in the summer, a city in Florida might be your best bet! According to our analysis, the top 3 largest U.S. cities for people who love water activities include three Florida cities: Tampa, Miami, and Orlando. Runner-ups include San Diego, CA, and Hartford, CT.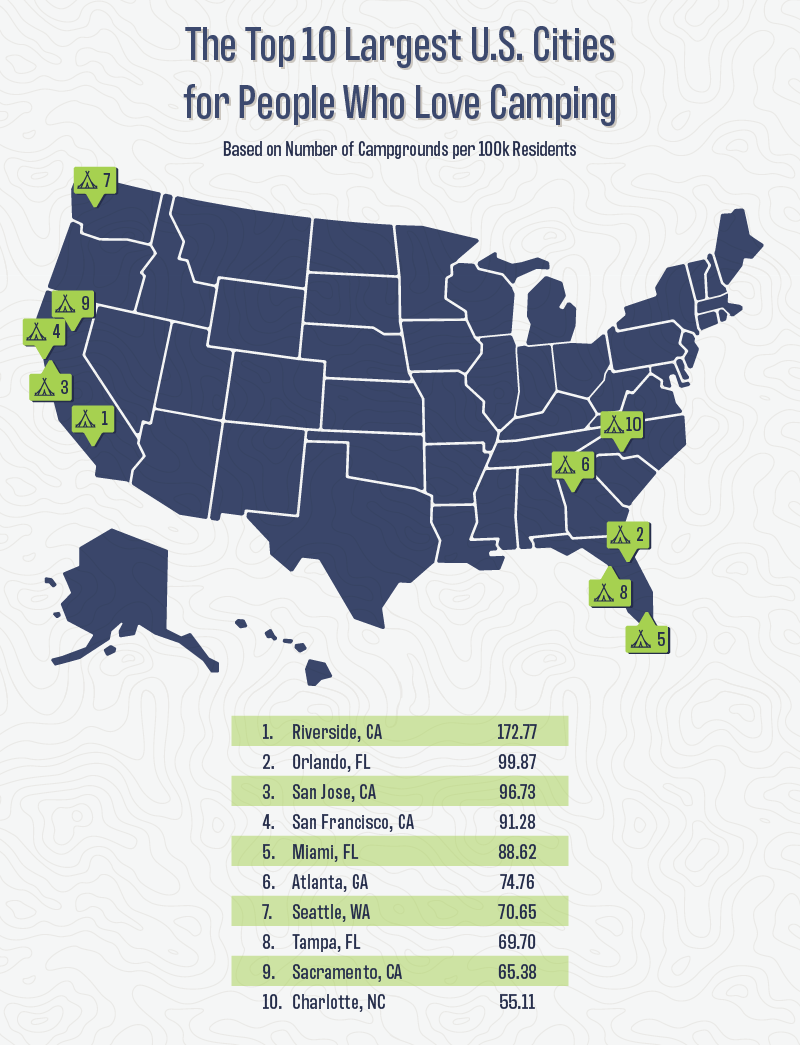 And if you're a camping buff who can't quit the city lifestyle, living in a major city in Florida or California might be the perfect match. According to our research of the campgrounds in these areas, Riverside, CA, Orlando, FL, and San Jose, CA, are all large metropolitan areas with incredibly easy access to camping. But you couldn't go wrong with any of the cities that made the top 10!
Plenty of other U.S. cities include awesome opportunities to get outdoors. If your city didn't make the list, don't fret. Check out our complete data set, including the full list and rankings of the top 50 metropolitan areas.