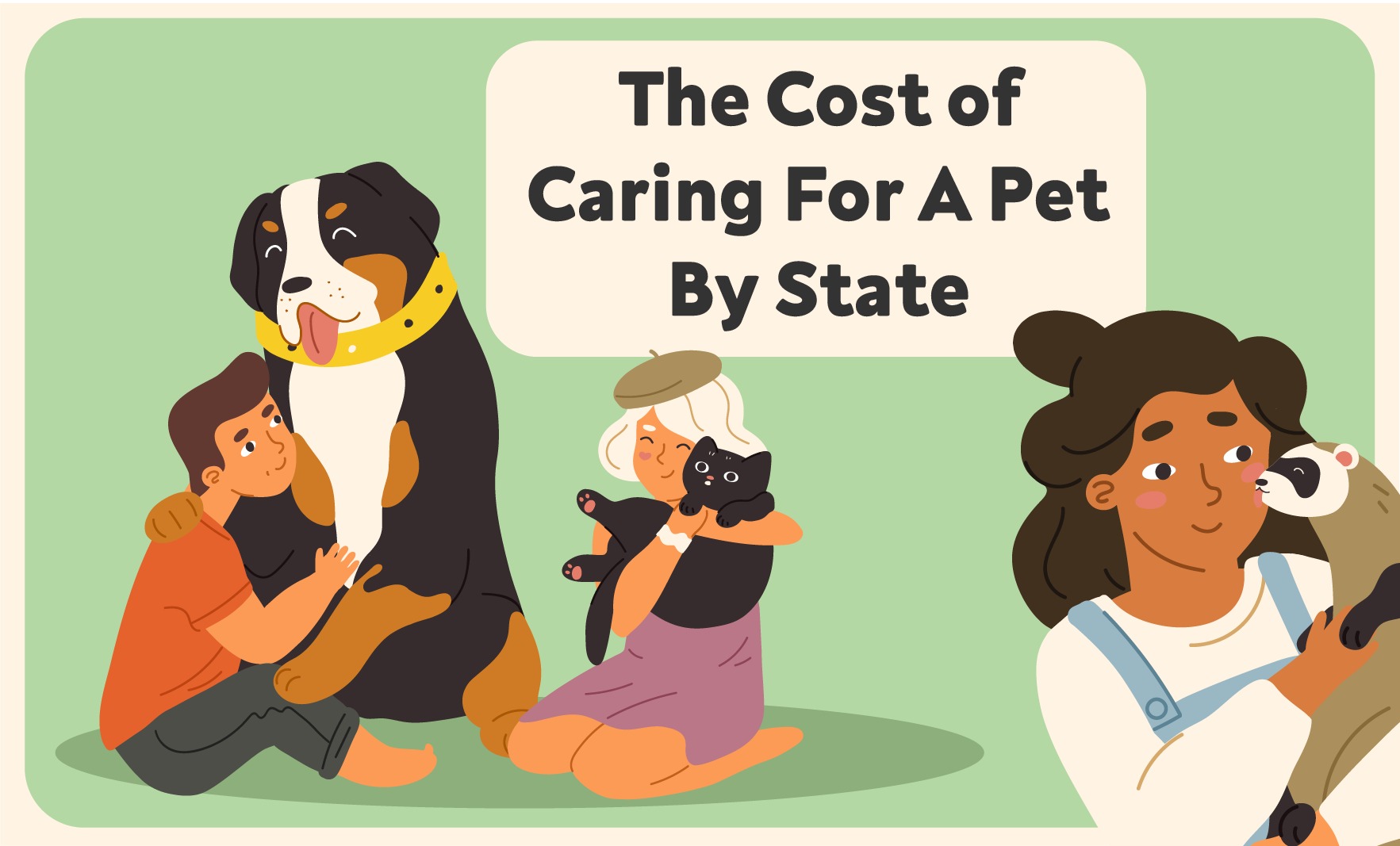 Pretty much everyone agrees that pets are the best way to turn any house into a home. A dog's giddy tail wags anticipating their owner's arrival, the brush of a cat's ears on a cuddling owner's face, and even a hamster's excited squeals when their human sits by a cage all reflect the unconditional love that a pet can bring. 
At Spruce, we are connected with so many customers with four-legged friends that bring them comfort and joy.  As we've gotten to know our customers, we've learned that for all the love their pets provide, they also ring up considerable bills for the owners, making it harder for these owners to pay for extra care and experiences to share with their pets.  
Given that we connect with pet owners all across the country, we were curious to know which of our pet-loving customers face the highest costs of caring for their pets. So, we decided to take a look at some data and get a better understanding of state-by-state disparities in pet expenses. 
To do so, we looked at average costs for caring for dogs and cats across the country, focusing on all sorts of factors from vet bills to kitty litter charges. In the end, we came up with a set of annual costs for dog owners and cat owners with and without emergency care expenses. We then looked at differences in expenses based on the state where owners live. In the end, we were able to get insight into the cost of owning a pet across the country. 
The Cost of Owning a Dog
According to a recent Washington Post report, a whopping 48% of American households own a dog. Even though not every dog receives the expensive care of America's most pampered pooches, all dogs do rack up some serious expenses for even the most frugal owners. To analyze the cost of owning a dog across the country, we looked at factors including:
Annual food costs

Annual toy costs

Annual grooming costs

Flea and Heartworm Medication costs

Annual boarding costs

Annual licensing and fee costs

Annual pet insurance costs

Annual regular and emergency vet costs
We came up with the following annual costs for dog owners across the country.
According to the statistics, the least expensive place to own a dog is North Dakota, with costs totaling only $1,685 per year. New York is the most expensive place in the country to own a dog, totaling $2,010 every year.
What contributed to such a hefty bill for New York dog owners? We found that the annual cost for pet insurance in New York is $603.19, a strikingly high amount. The debate around taking on pet insurance is definitely a hot topic around dog owners. As a recent New York Times article reported, more than two million American pets are insured, but for low-maintenance pups and older dogs, the cost of insurance policies may not be worth it for pet owners. 
Other locales that were notably expensive for dog-owners are Minnesota and Washington, D.C., two places that rarely sit together in cost-of-living comparisons. Again, high pet insurance costs in these two states pushed them to be among the most expensive places to care for a dog across the country. 
Next, we reviewed the costs of owning a dog including emergency vet care. We know that anything from a leg broken during a long walk to a gobbled-up chew toy can send dogs to the vet and create egregious expenses, so it was important to look at how much dog owners pay for these unexpected charges.
The least expensive places to own a dog remained similar, with residents of North Dakota, Kansas, and Mississippi paying exceptionally low costs for emergency vet visits. 
Interestingly, we found that the most expensive place for dog owners including emergency care costs changed from New York to Washington D.C. In D.C., dog owners can expect to pay around $1,500 in emergency care costs every year. However, given that annual pet insurance policies in D.C. sit at around $550.73, it may be well worth it for Washingtonian dog owners to take out policies instead. 
Interestingly, as we see on the map, waterside states like California, Louisiana, and even Michigan were among those with the highest annual costs for dog owners, including emergency care. Given that there are added dangers for water-loving dogs, like these shared by PreventItVet.com, it's important for dog owners to remember that medical emergencies from dogs affected by choppy or unclean water could create costly trips to the vet. 
The Cost of Owning a Cat  
Next up, we looked at the costs of owning cats across the country. According to Statista, there are over 95.6 million cats living in American households. While many cat owners know that their felines have no problem keeping to themselves, these low-maintenance pets still can cost their owners a pretty penny. 
For the cost of owning a cat, we totaled factors including:
Annual Food Costs

Kitty Litter

Annual Toys Costs

Annual Medicine Costs (Flea and Heartworm)

Pet Insurance (annually)

Annual Regular Vet and Emergency Vet Costs
According to our totals, the least expensive state for cat owners is Oregon, where expenses averaged out to only $895 a year without emergency veterinary expenses. In fact, in 40 of the states, the cost of owning a cat was less than $1,000 annually, a pretty nice deal for a year's worth of companionship. 
On the other hand, the states where owning a cat is especially expensive include, once again, New York, Washington, D.C. and even Wisconsin. In each of these states, pet insurance for a cat exceeded $300 a year. 
It's interesting to note that, as reported by Kiplinger, different cat breeds generate different pet insurance costs, meaning that Wisconsin Maine Coon owners may pay more than New York Ragdoll owners.
Finally, we looked at the cost of owning a cat with emergency care costs included. According to VetStreet.com,
common emergency health issues for cats
include urinary tract infections and respiratory issues that must be treated immediately.
Interestingly, similar to dog owners, cat owners in North Dakota pay the least annually with emergency care costs. Average emergency care costs in North Dakota for cats is only $750, a notably low total as any pet owner can attest to. Other states with low costs for emergency cat care were Mississippi, Arkansas, and Kansas. 
Conversely, California and Washington, D.C. are the two states with the highest emergency care costs at an annual total of $1,500, double that of the lower states. These drastic differences speak to a clear disparity in veterinary care costs across the country. 
Overall, we found that owning a dog or a cat can cost owners a solid chunk of change. We all want to make sure that our pets live happy, healthy lives. Looking at the numbers above, it's quite clear that not everyone can afford to do so. Still, if you are able to add a dog, cat, or any pet to your life, you will know that the love they give is priceless.