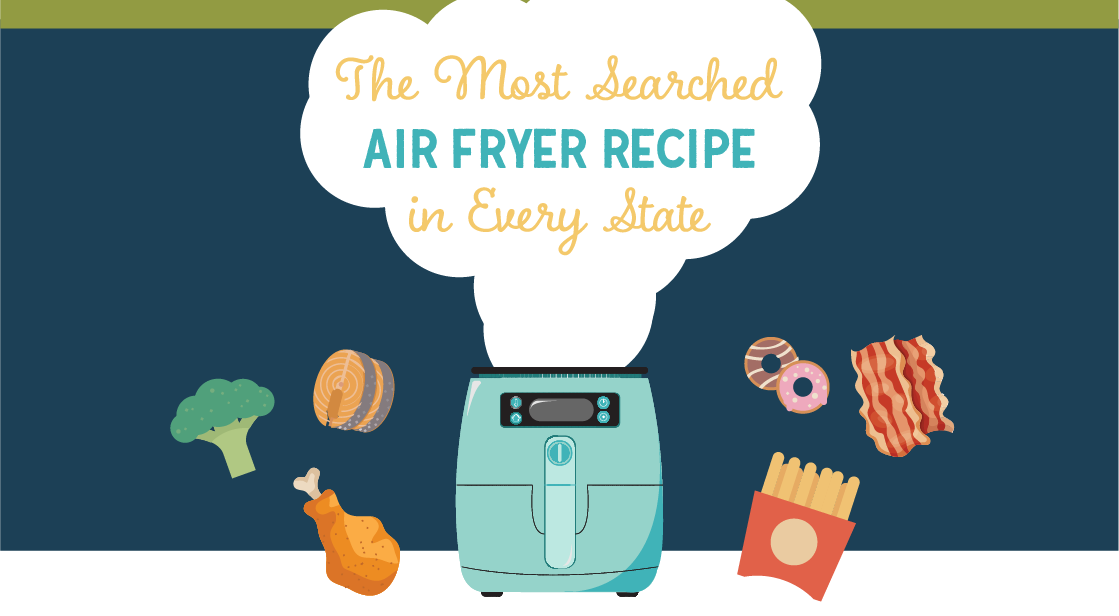 We all have hobbies and activities that help us manage or reduce stress, and for many, cooking falls at the top of that list. Diving into a new cookbook or trying out a new recipe can be an excellent way to take your mind off of things and focus on creating one great dish. Social distancing has freed up time for many of us to dig into the stack of bookmarked Pinterest recipes we've been building for years and finally give them a go in the kitchen. 
One of the best ways to gain new inspiration in the kitchen is by testing out new kitchen gadgets, and the air fryer has been that hot new accessory for many over the past few months. An air fryer cooks food using a circulation of hot air, which allows for faster food preparation. As opposed to regular food fryers like a deep fryer, the food cooked in an air fryer is not submerged in oil, so it makes for a healthier alternative to traditional food fryers. From brownies to broccoli, nearly anything can be cooked in an air fryer, so the experimentation alternatives are seemingly endless. It's easy to see the appeal of the air fryer! 
In an effort to explore which foods recipes are most popular to cook in an air fryer, we looked at Google Trends search data for 75 of the common air fryer recipes over the last twelve months. Then, we determined which was the most searched, or most popular, food to make in an air fryer in every state. Read on to learn more about each state's favorite.
Exploring the Most Popular Air Fryer Foods Across the U.S.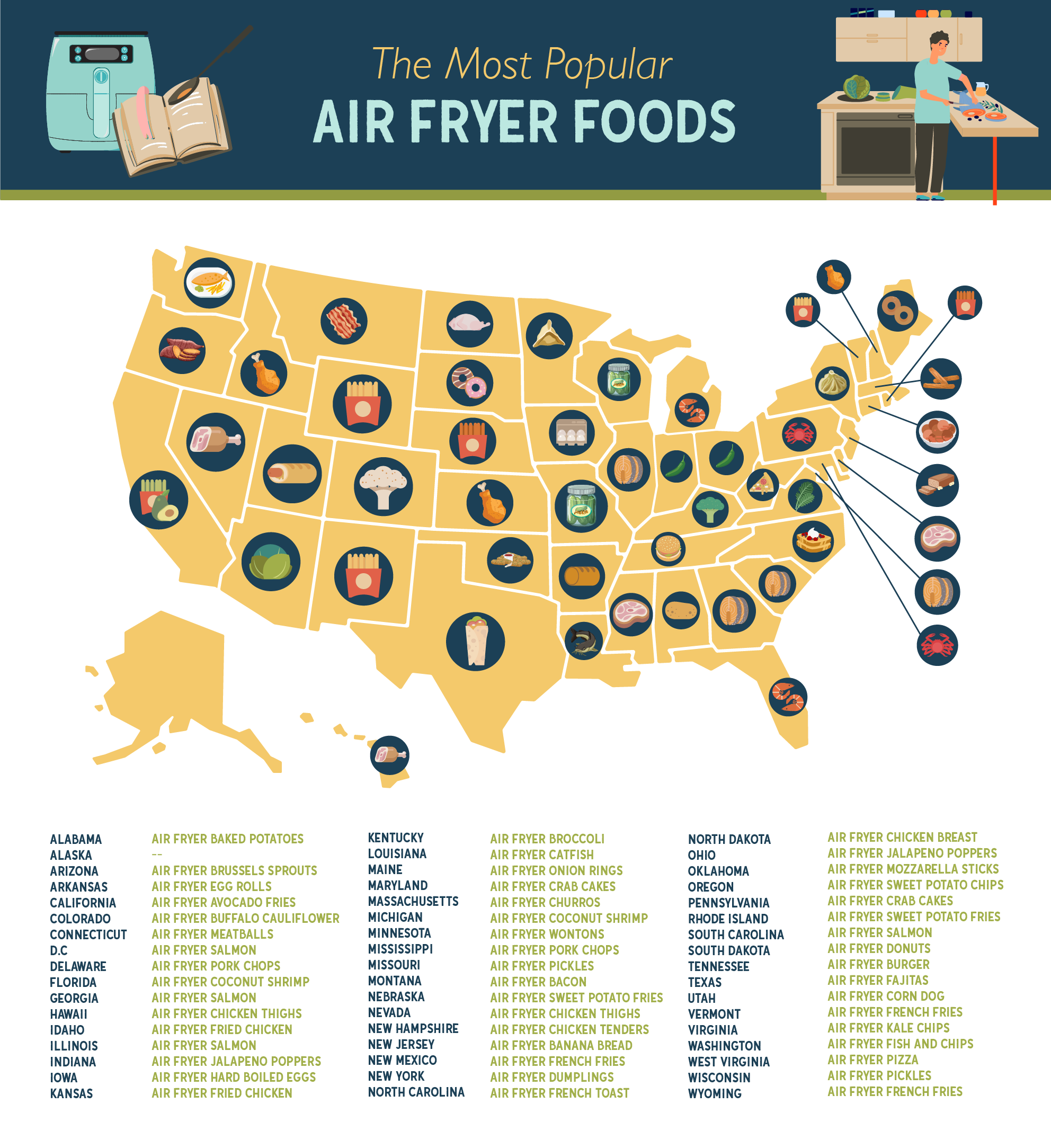 The main takeaway from our research is that there is quite a variety in the types of foods and recipes cooks across the country are utilizing their air fryers for. From Colorado's interest in buffalo cauliflower to Washington's searches for air fryer fish and chips, all types of meals and styles of food are represented on the map of results. 
A common food that pops up as the most searched recipe in many states are french fries, but the type of fry preferred depends on the state you're looking at. Traditional french fries are the most searched air fryer recipe in New Mexico, Vermont, and Wyoming, while cooks in Nebraska and Rhode Island appear to prefer sweet potato fries. And not surprisingly, since they're the largest producer of avocados in the U.S., California's most-searched food is air fryer avocado fries.
Air fryer salmon is the most searched in the highest number of states overall, taking the top spot in Washington DC, Georgia, Illinois, and South Carolina. It is also the most searched recipe in the southern region of the U.S. 
From avocado french fries to salmon, these state-by-state results speak to the range of styles and types of foods that can be prepared in an air fryer. How does your favorite air fryer recipe compare to your state's most searched? 
Below, we broke down the most popular air fryer foods in the U.S. by cuisine.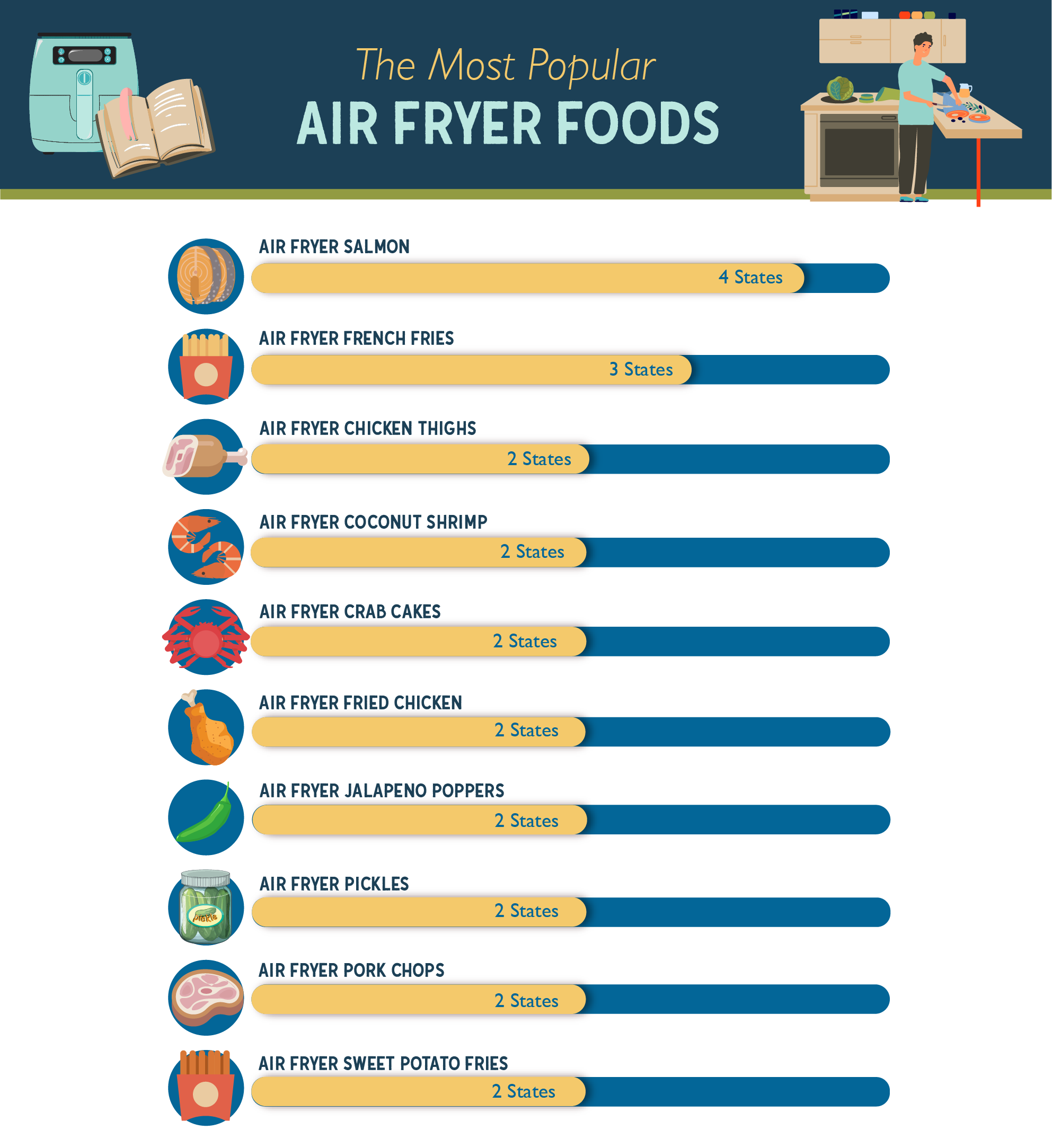 While salmon and french fries are the most popular foods cooked in air fryers across the nation, this chart shows just how creative you can get with the gadget! Rooted Mama Health notes that popular foods run the gamut, including bar food like pickles and jalapeno poppers, seafood like crab cakes and coconut shrimp, and chicken recipes like fried chicken and chicken thighs. In fact, the air fryer's versatility is so great, Americans have created a 8-way split for the third most popular air fryer food!
Bringing It All Together 
Overall, Google Trends provides an interesting way to see what people are searching for in different areas of the country. When it comes to food preferences, everyone is different, but it's clear that many people are searching for the same recipes and styles of food in various regions of the U.S. Which recipes are you looking forward to trying out in your air fryer?