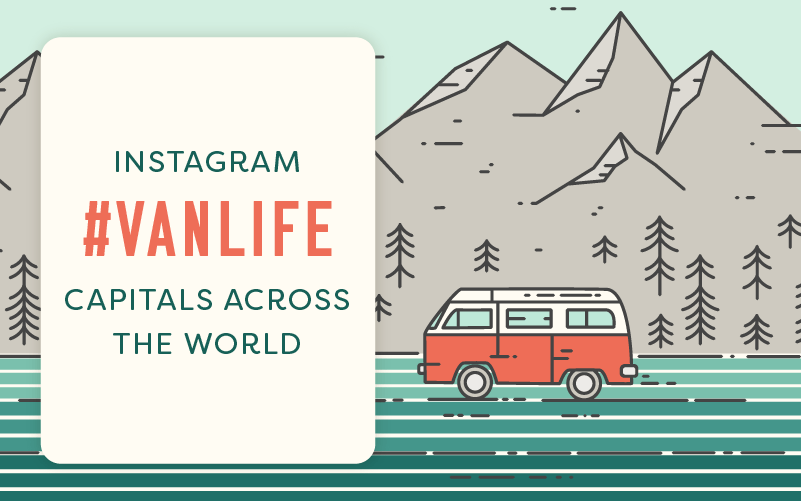 Intro
Explorers and adventure seekers, never fear – the #vanlife movement on Instagram is alive and well. #Vanlife is not simply an Instagram hashtag. It's a life choice whereby bohemians and travelers ditch the hustle and bustle of everyday life for the great outdoors. #Vanlifers restore old Volkswagen vans, cargo vans, and RVs into well-designed, Instagram-worthy mobile homes that are conducive for road-tripping, backpacking, hiking, and surfing. 
Some #vanlifers seek a retreat from the lifestyle that comes with a nine-to-five job, relinquishing their mortgages and possessions in search of a simpler life. Other #vanlifers keep this lifestyle but embrace van life on weekends, summers off, or short-term sabbaticals from work. Many of the vans within this community have renovated interiors including luxuries like kitchenettes, built-in beds, hanging plants, sunroofs, and hardwood flooring, creating an ethos synonymous with the sister hashtag, #homeiswhereyouparkit. 
At Spruce, we're fascinated with the van life culture and wanted to take a closer look at where in the world these #vanlifers are heavily located. So, our team scraped five days worth of Instagram geotag data of posts using the hashtag #vanlife to gauge the top destinations for van life within the U.S., Europe, and other parts of the world. We also collected the number of likes and comments associated with these posts to find which world regions are gaining the most social engagement. Here's what we found:
The Top U.S. Destinations for #Vanlifers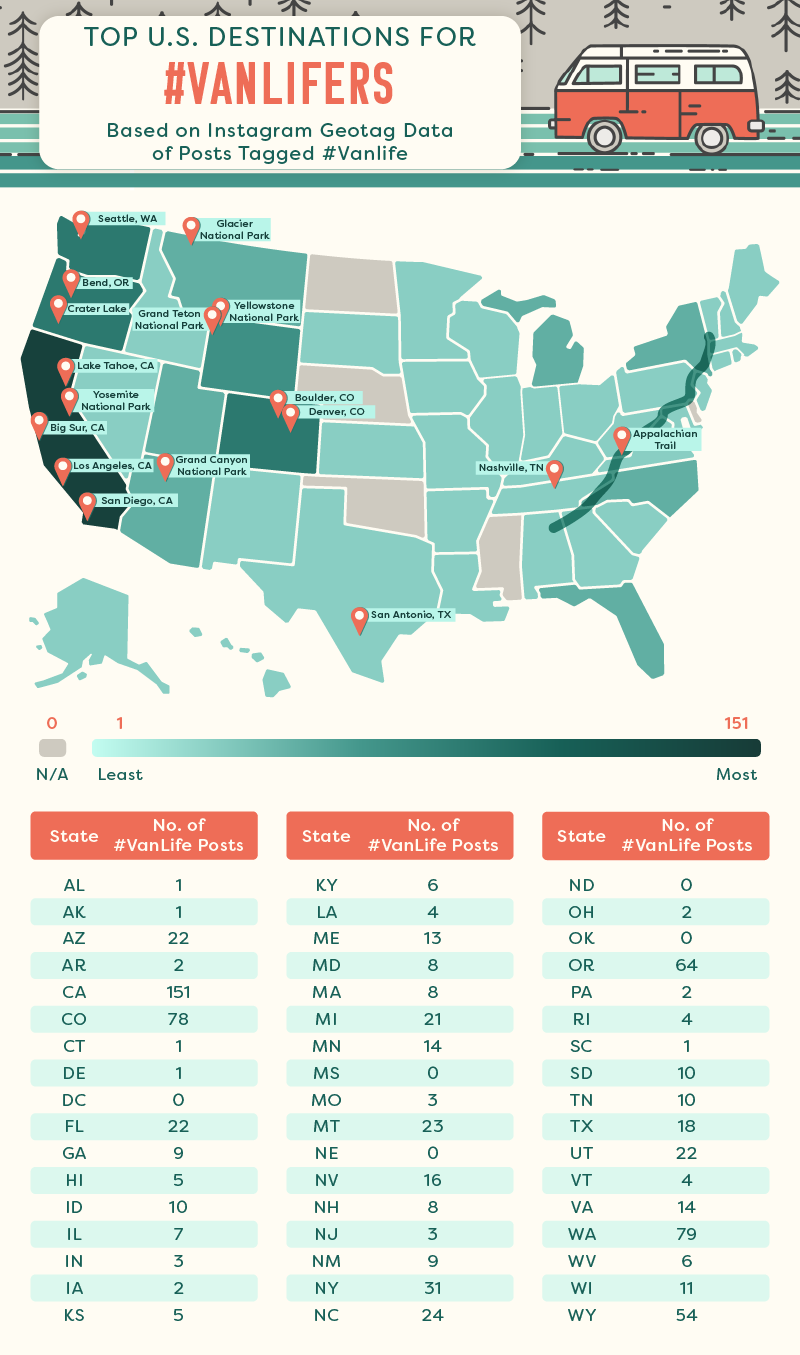 California is by and large the top U.S. state for van life posts averaging over 150 posts tagged #vanlife in under two hours. While tracking location data, we determined that the top California destinations for #vanlifers are cities and national parks such as Los Angeles, Lake Tahoe, Big Sur, and Yosemite National Park. With an abundance of ocean-side campgrounds and laid back attitudes, California certainly reigns supreme as the number one #vanlife capital within the U.S.
Other top five states with rich van life communities include Washington (#2), Colorado (#3), Oregon (#4), and Wyoming (#5). Needless to say, the pacific and mountain time zones possess environments that are highly attractive for adventurers on the road. 
Other states that fell within the top ten states for #vanlife posts were New York (#6), North Carolina (#7), Montana (#8), and Arizona (#9). Grand Canyon National Park, Glacier National Park, and the Appalachian trail were all notable van life landmarks within these states. 
The Top European Destinations for #Vanlifers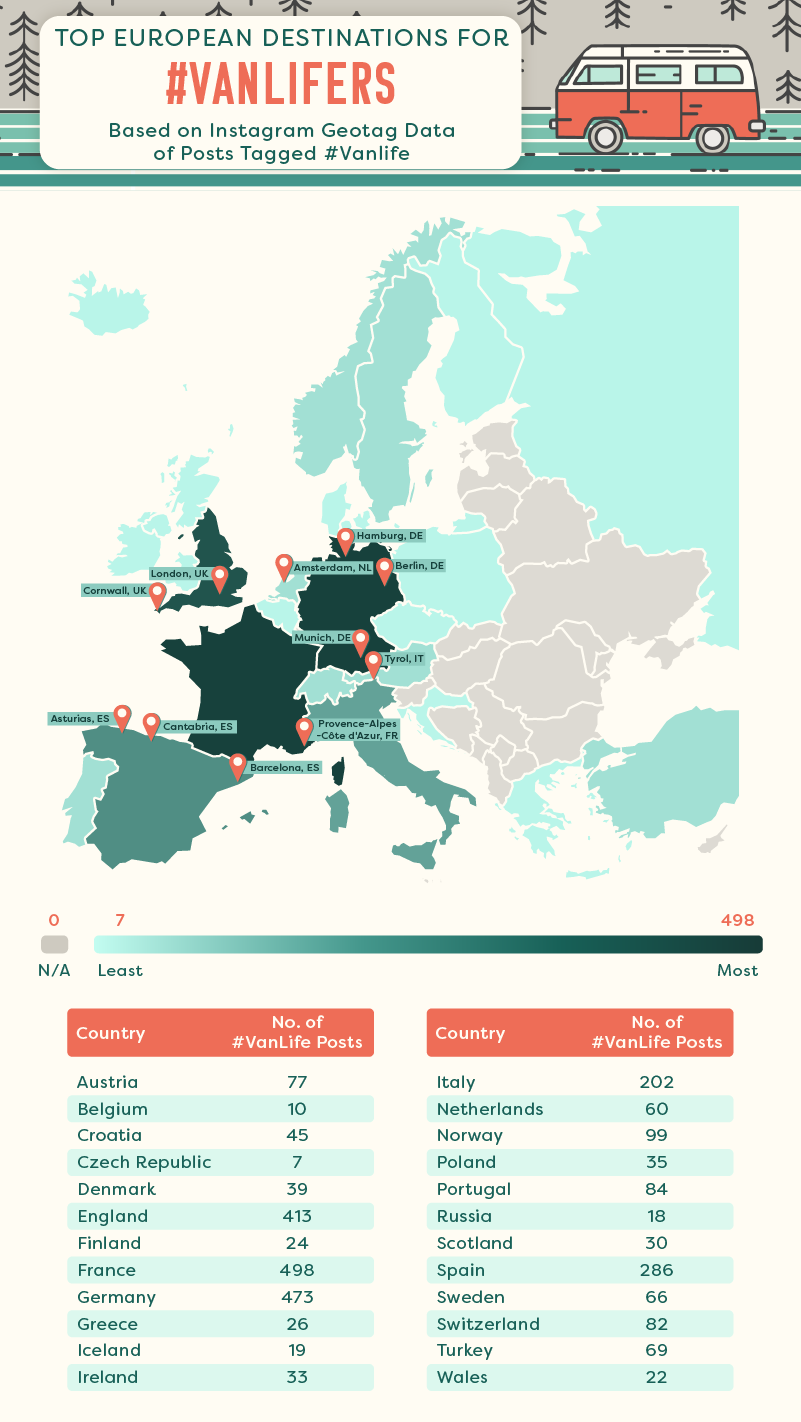 In recent years, the van life culture has extended far beyond the U.S., garnering participation from residents in Europe, South America, and Australia. Within a matter of hours, France averages 498 posts tagged #vanlife, while Germany averages 473 posts. The movement has also picked up international momentum in other European countries such as the UK, Spain, Italy, and Turkey. Landscapes located around the South of France, Catalonia in Spain, and Tyrol in Northern Italy all seem to be hubs for the van lifestyle. 
With hundreds of miles of Bavarian countryside, the German Alps, and centuries-old medieval towns, it's no surprise that Germany is one of the European capitals for van life. Cities like Berlin, Hamburg, and Munich were home to the #vanlife tag more than any other European city.  
Other Top Destinations for #Vanlife Posts & Engagement
Overall, the number one city in the world for #vanlife posts is Vancouver located in British Columbia, Canada. Vancouver alone averages 53 posts tagged #vanlife in under two hours. Whistler, Victoria, Montreal, and Banff National Park were other Canadian van life capitals of note.  
In terms of social media engagement, U.S. states where #vanlife posts had the most likes and comments were California, Washington, New York, and Colorado. Runner up states for engagement of van life posts were Oregon, Wyoming, and Texas. Countries, where #vanlife posts had the most likes and comments, were Austria, Germany, Italy, and France.
Hopefully, we've given you a more detailed snapshot into the #vanlife movement and where this revolution is taking place. Whether temporary or permanent, the van lifestyle pays perfect homage to J.R.R. Tolkien's age-old quote that, "not all who wander are lost."
Interested in diving deeper into the numbers for the top countries or U.S. states for van life, or wanting to see how your region stacks up if it's not on the above map? We've compiled our full data study for the top countries and U.S. states for #vanlifers into the interactive data table below. The countries are listed on the left-hand side of the table and the states are listed on the right. Use the search bar on the top left to single out results for your region!